13 septembre 2011
2
13
/

09
/

septembre
/

2011
20:06

Changement du tapis au temple....
Change the carpet in the temple ....
เปลี่ยนพรมในวัด ....
But first, a few pictures of the Happy Birthday of H.E.
the Ambassador of Sri Lanka and his family.
Mais pour commencé, quelques photos de la visite de
l'ambassadeur du Sri-Lanka et sa famille.
ภาพถ่ายบางส่วนของของ ฯพณฯ เอกอัครราชทูตศรีลังกาและครอบครัวมาทำบุญวันเกิด



Goodness is universal and brings benefits
for all. H.E. the Ambassador of Sri Lanka celebrate
his Happy Birthday by offering robe,
observe 5 precepts and do meditation
at Wat Thai Dhammaram.

ฯพณฯ เอกอัครราชทูตประเทศศรีลังประจำประเทศเบลเยียม
สหภาพยุโรป และประเทศลักเซมเบิร์กมาทำบุญวันเกิด
และเจริญสมาธิภาวนาศวัดไทยธรรมาราม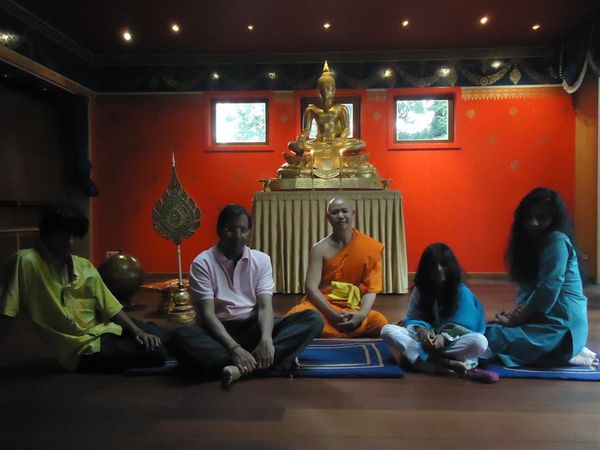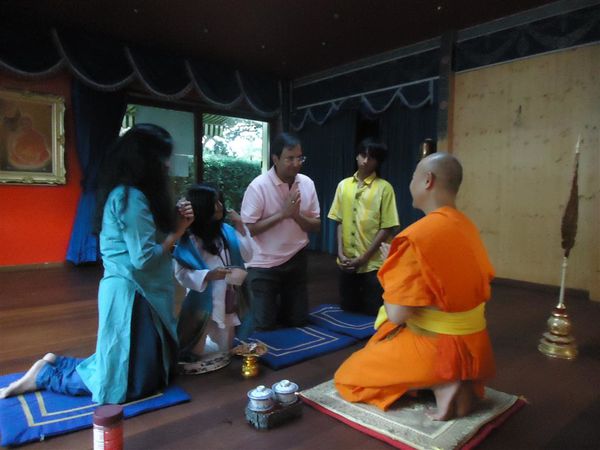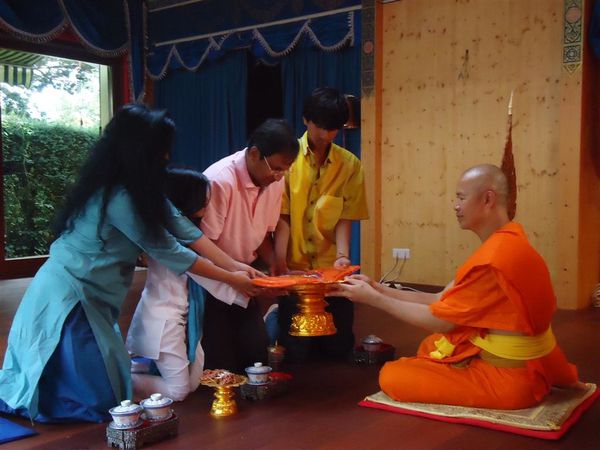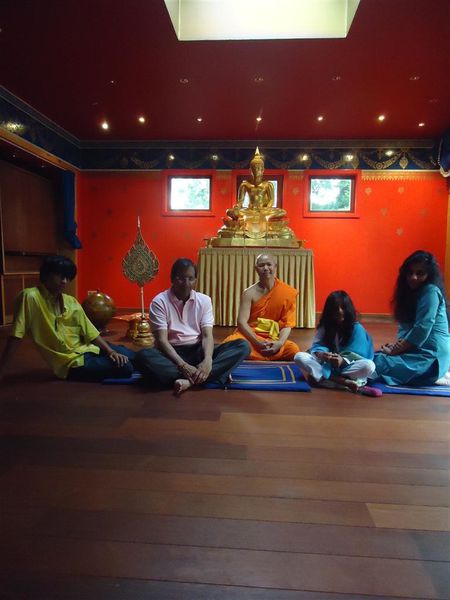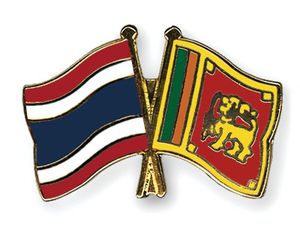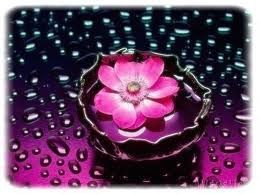 All goodnes we hae done and we intend to share with all.
Volunteers renovate chanting hall of Wat Thai Dhammaram.
ขอแบ่งปันคุณความดีทั้งมวลที่พวกข้าพเจ้าได้ทำด้วยจิตเป็นกุศลนี้แด่สรรพสัตว์ทั้งปวง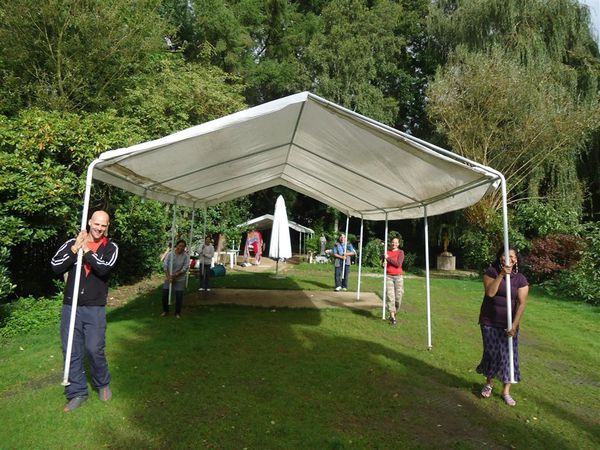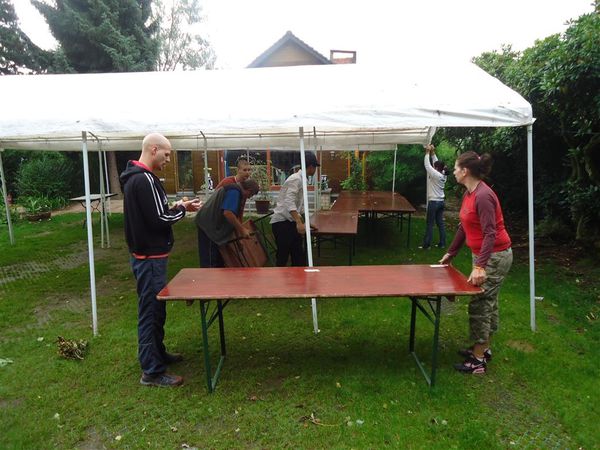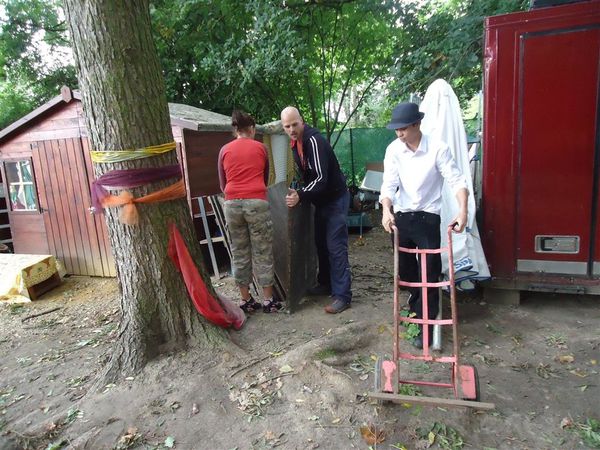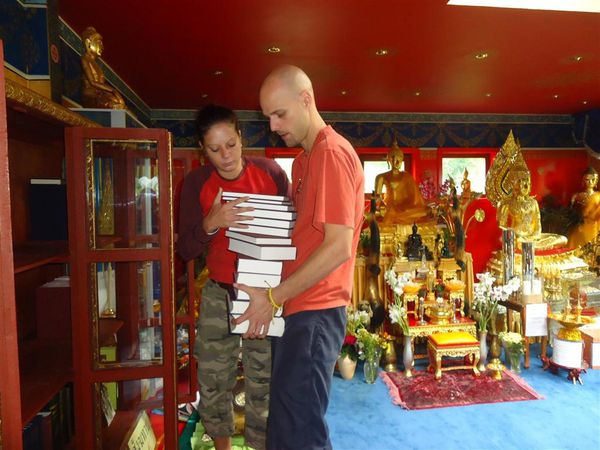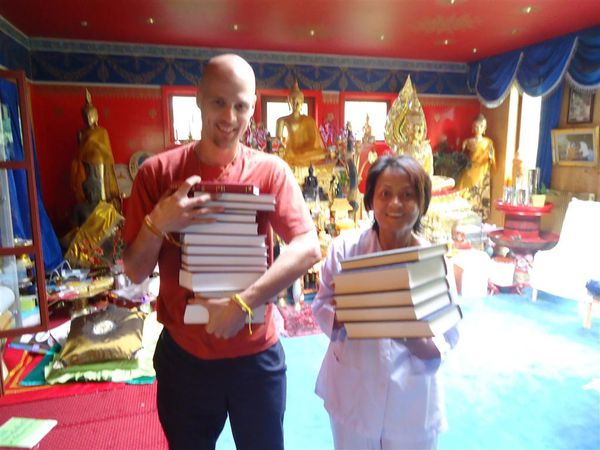 This world is blind-become
few are here who see within
as few the birds break free from net
so those who go to heavens.
Explanation:
Most people in this world are unable to see.
They cannot see reality properly.
Of those, only a handful are capable of insight. Only they see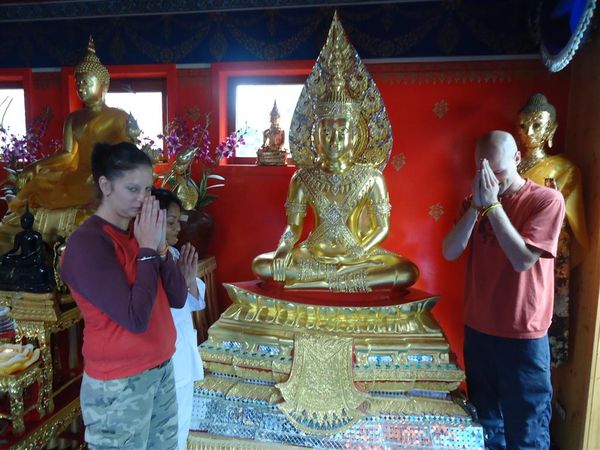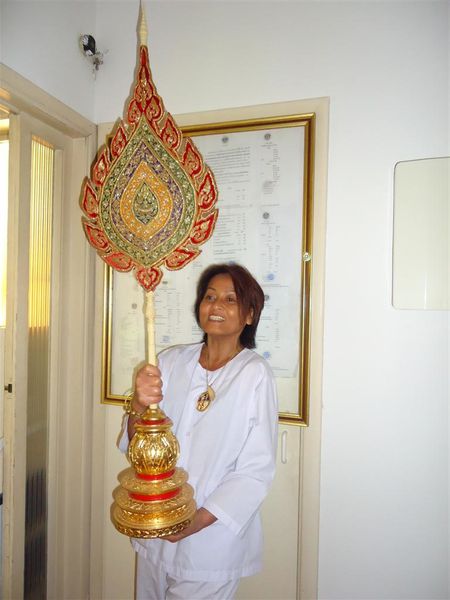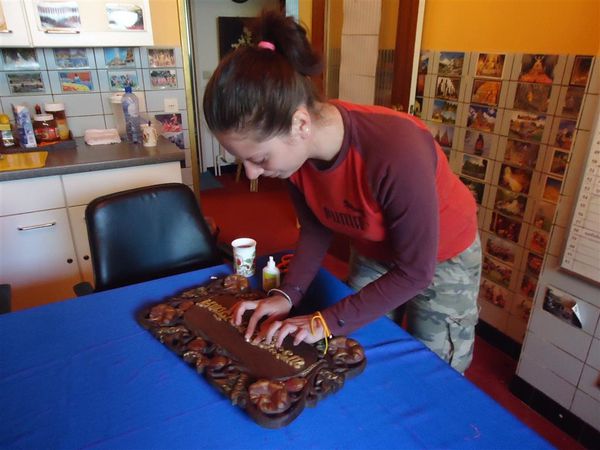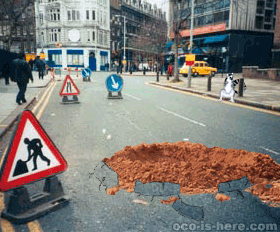 โลกนี้ มืดมน น้อยคนจักเห็นแจ้ง
น้อยคน จะไปสวรรค์
เหมือนนกติดข่ายนายพราน
น้อยตัวจะหลุดรอดไปได้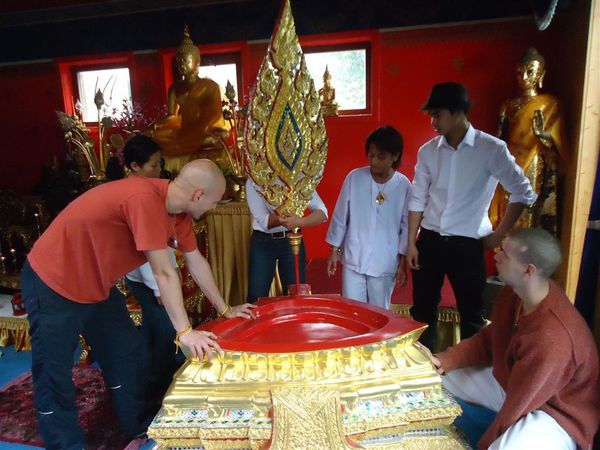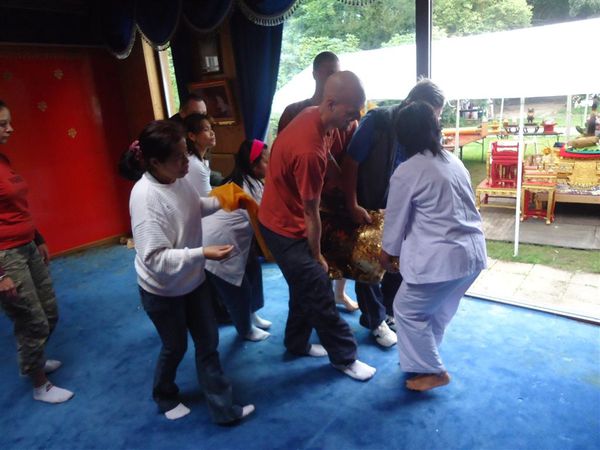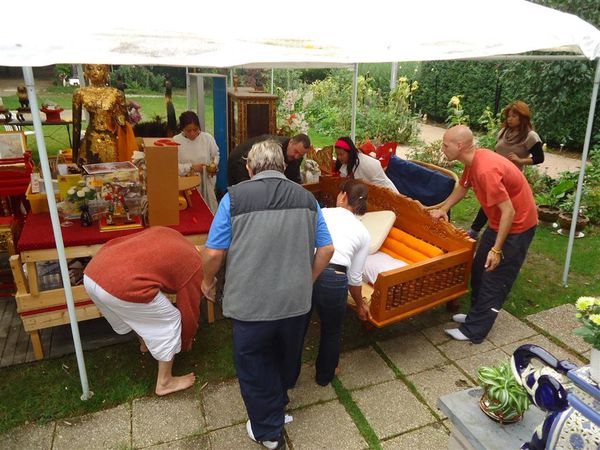 Who by his wholesome deeds
Remove the evil done-
He illumines the world here and now
Like the moon emerging from the cloud.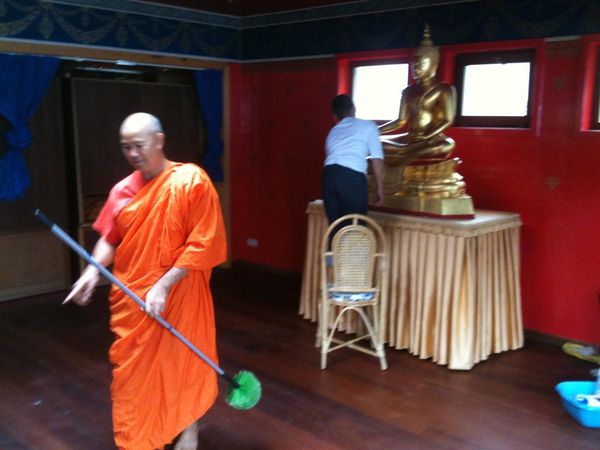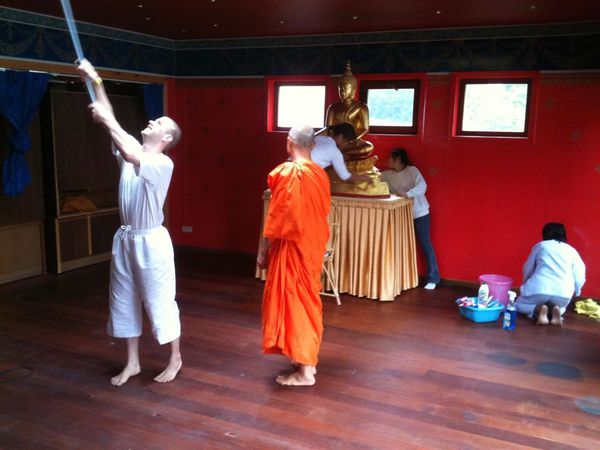 Swans upon the sun's path fly,
the powerful through space,
conquering Mara and his host
away from the world the wise are led.
Explanation:
The swans fly away in the sky - as the path of the sun.
Those possessing psychic power travel through the sky.
Those diligent, wise saint conquer death with his armies and
leave the world and reach Nibbana.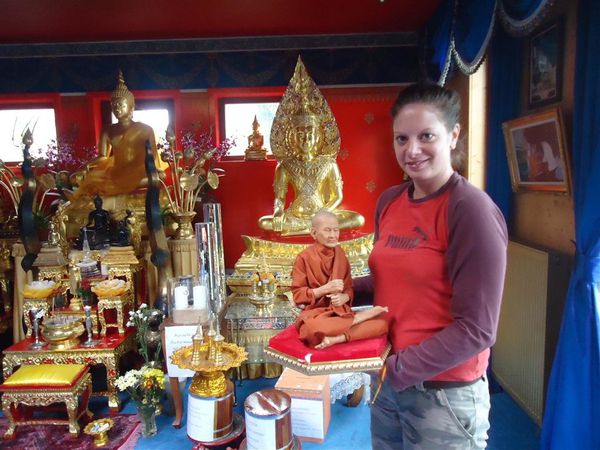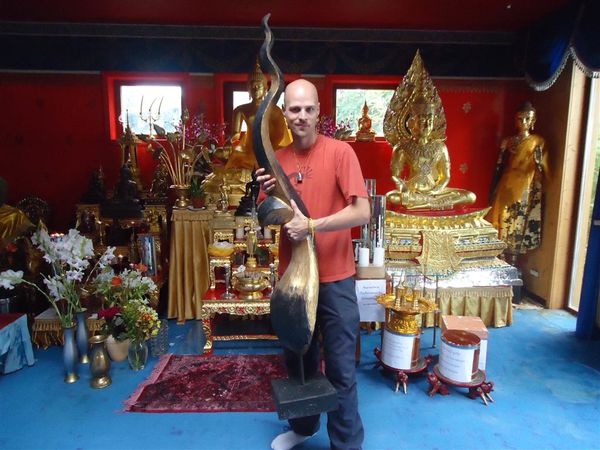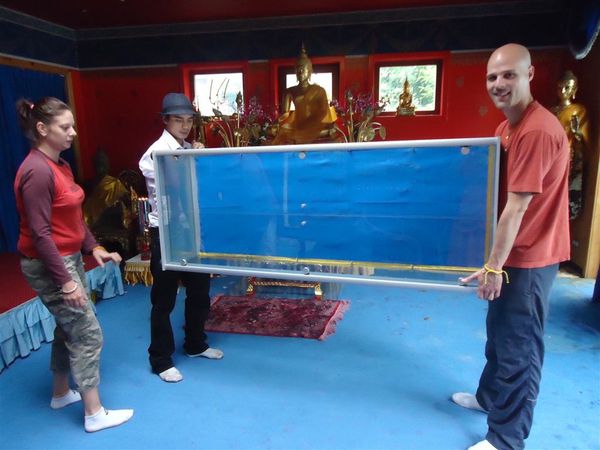 ผู้ที่เคยประมาทในกาลก่อน
แต่ภายหลังไม่ประมาท
เขาย่อมส่องโลกนี้ให้สว่าง
เหมือนพระจันทร์ที่พ้นจากเมฆฉะนั้น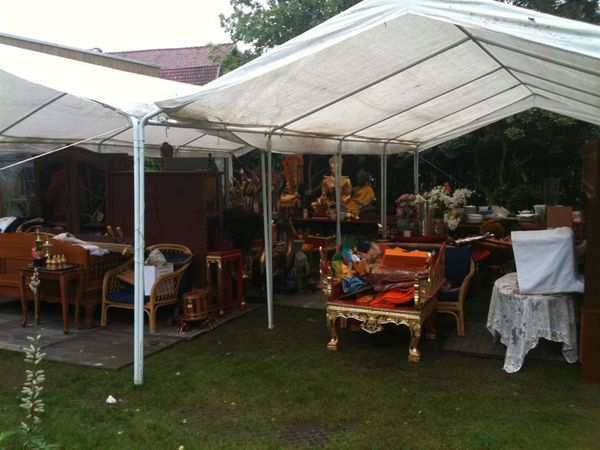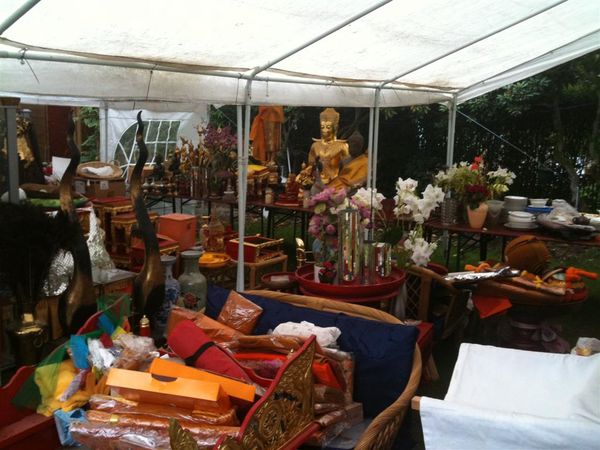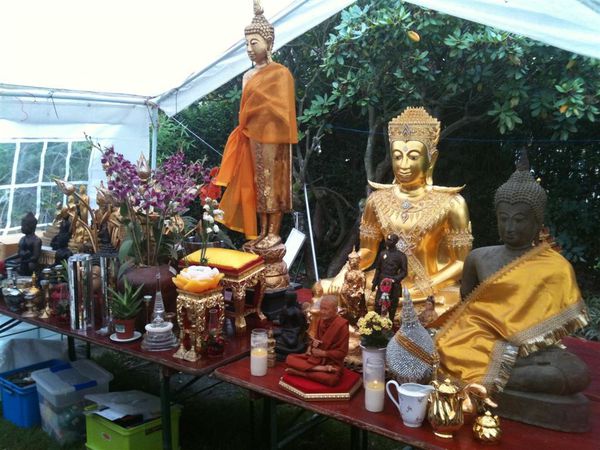 To heavenly realms the mean don't fare,
fools magnanimity ne'er acclaim,
but the one of wisdom rejoices at giving
and happy will be in future lives.
Explanation:
The extreme misers do not reach the heavenly worlds.
The evil ignorant ones do not approve acts of charity.
But those noble ones approve and partake of charity.
In consequence, they are happy in the next birth.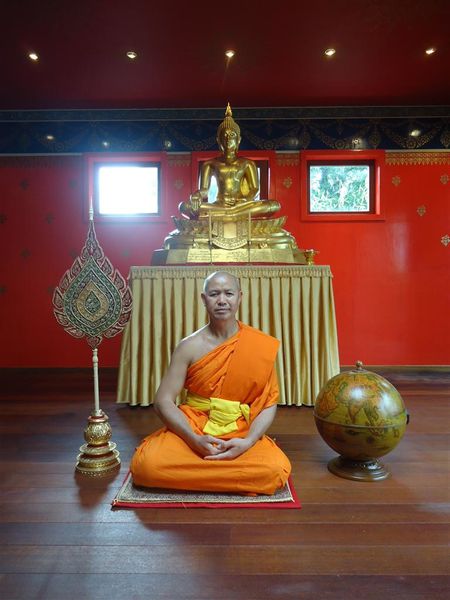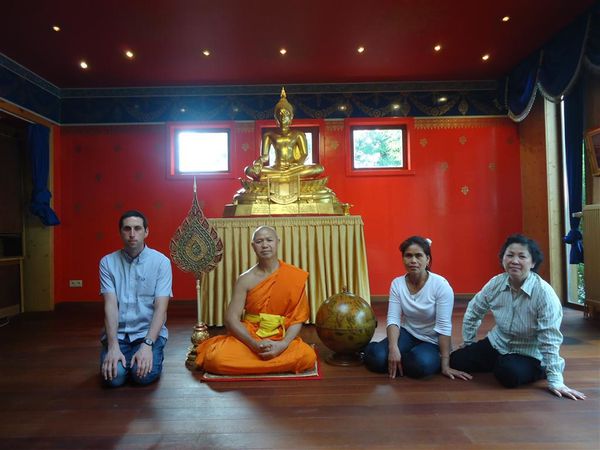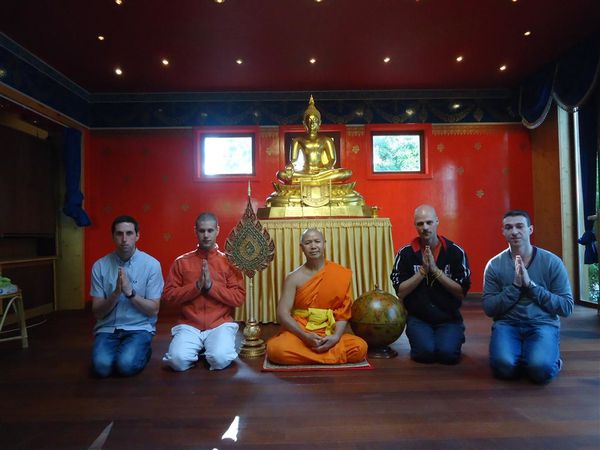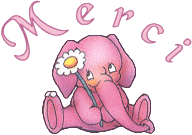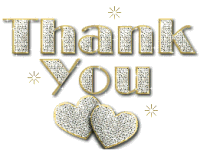 Merci à tous pour votre aide.
ขอบคุณทุกท่านสำหรับความช่วยเหลือและสนับสนุนของทุกท่าน.
Thank you all for your help.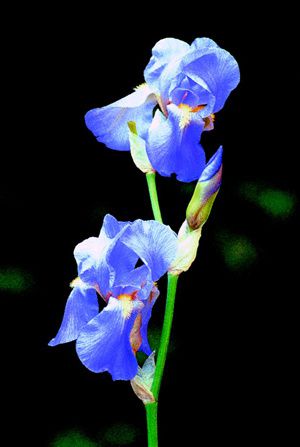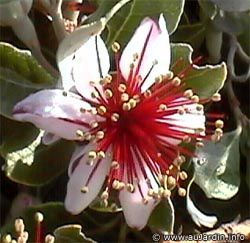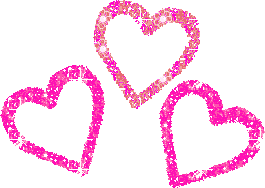 All Images in the Album : 05-Work at the Temple